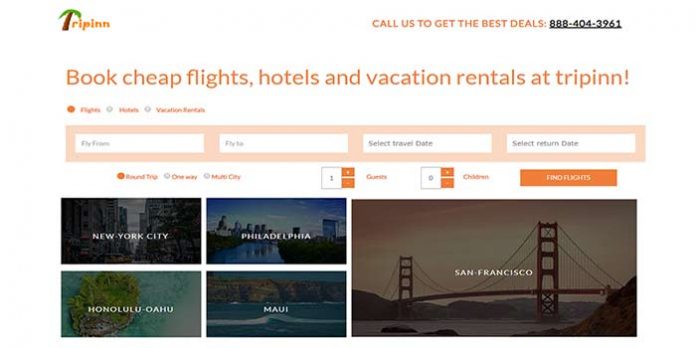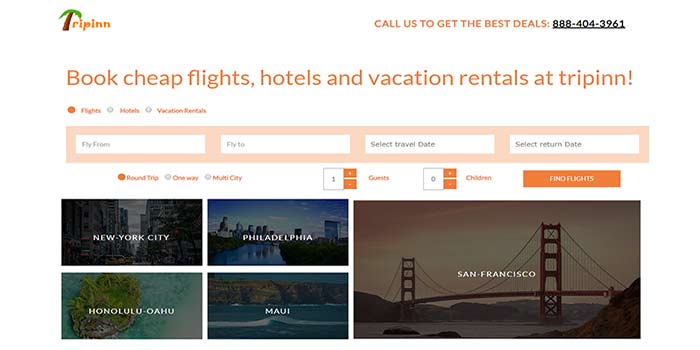 Did you have a bitter experience with Airbnb? Are you looking for an alternative? Here is some good news for you? There is a long list of alternatives sites to find a home away from home wherever you are visiting. Read more to know about alternatives to Airbnb and to find your dream accommodation.
1. Tripinn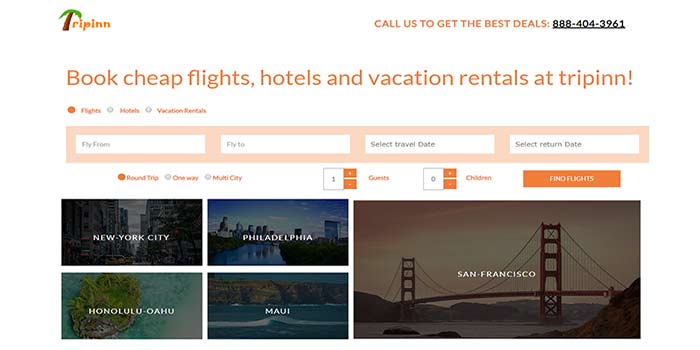 Tripinn is one of the best alternative options for Airbnb. It is an excellent platform to search and book a vacation rental. You can find, compare and book vacation rentals, condos, cabins, beach homes, hotel room and beach resort etc. in Tripinn. Tripinn provides you with a wide range of options worldwide. You have plethora of options to all places, including metropolitan cities, quirky places, remote beaches, historic ruins, mountains and beaches etc. It acts as a bridge between travelers and suppliers. Making plans for your travel and bookings of accommodation are made easier by Tripinn. You are just three steps away from your dream vacation when you visit Tripinn. You just have to enter the date and destination; then start to explore, proceed to book and get ready to travel. Tripinn assures you of a safe, affordable and memorable vacation.
2. Homeaway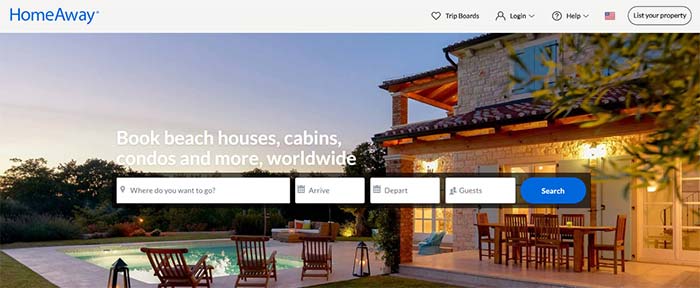 It is one of the best in Vacation Rental industry. The site offers more than 2 million homes in about 200 countries. No matter your destination, budget and occasion, Homeaway offers you many options. It offers secure bookings on holiday rentals worldwide. You don't have to pay any booking fees. You can contact the property owners through Homeaway and get important details like location, direction and other amenities offered. Find the perfect vacation property by entering your destination and date. Narrow down your search using filters. Once you find the perfect property you can book your Vacation rental and make secure online payment. Planning the stay for your next vacation is easier through Homeaway.
3. VRBO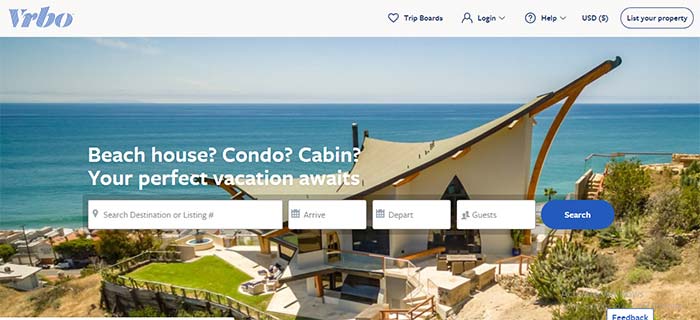 It is a part of the Homeaway family. It boasts of more than million vacation rental options all around the world. You can read reviews from past guests before making the final choice. Being a part of Homeaway, the booking policies are the same. It is popular for its quick responses and friendly services. It is a great source to find the right vacation rental. They are a big help to find a vacation rental to fit your needs.
4. Homestay

The team in Homestay is dedicated to help the travelers to find the right vacation rental and the owners to get more opportunities to increase their income. Homestay promises lasting friendship between travelers and owners. You can enjoy your vacation like a local the hosts are real people. They rent out a spare room to give you a unique experience and home like feeling. Wherever you are planning to travel, you are assured of finding the best host family. The host family doesn't just hand over the keys but they give you memorable experiences. You can see the world differently at an affordable price through Homestay.
5. TripAdvisor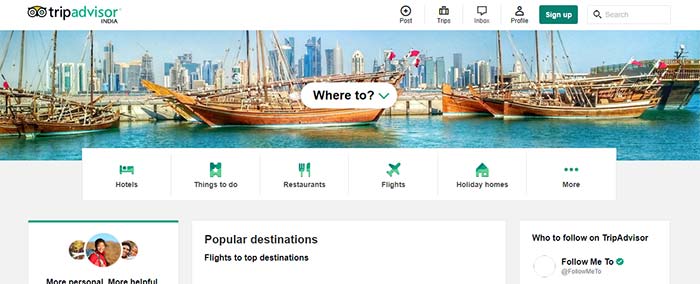 It is one of the largest travel sites. It helps travelers to unleash the full potential of every trip. It not only helps you to find the perfect place for stay, but also helps to decide where to go, how to go, what to do, what to eat and where to eat etc. They help you to make the most of every trip. They help in finding the best deals to save your hard earned money. It is good news that the pioneer site in travel helps you to book a vacation rental too. It is easy to navigate the site to find the perfect home for you to stay in your next trip. They assure you of giving you a chance to immerse in local life when you book a vacation rental through them.
6. Flipkey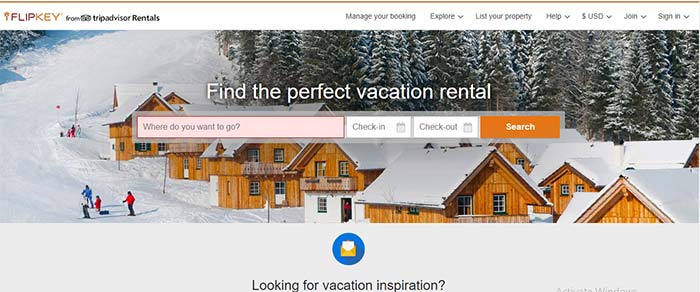 It is a part of TripAdvisor Rentals. It is one of the rental market places with more than 300,000 rentals around the world. It is one of the perfect places to find the right place to stay for your trip. The owners featured on the website have to undergo strict checks before enlisting their properties. This ensures that you are not going to be cheated by scams. The site provides reliable reviews too. If you are looking for pet friendly rental homes, the site provides a long list to choose from. It is one of the best sites to consider for booking a vacation rental.
7. Tripping.com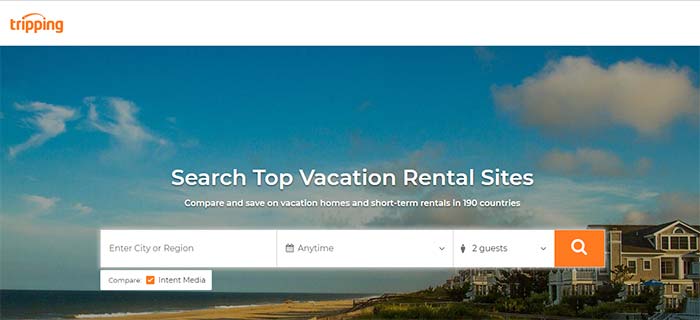 It is one of the new competitors to Airbnb. When you search through Tripping you can find, filter and compare over 12,000,000 properties available in all top vacation rentals including VRBO, Airbnb, Homeaway, TripAdvisor and others. You can find all types of properties from cozy cabins to luxurious condos and beautiful beach front homes. It claims to be one of the largest search engines for finding short term vacation rentals. It gives you the widest choices of the best accommodations throughout the world. The search is easy and the access to the property is instant. The site assures you of a dream place to stay in your next trip.
8. Booking.com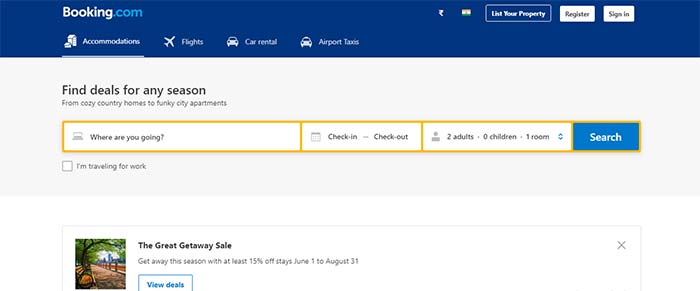 It is part of the Priceline group. It has more than one million rentals. It is one of the largest vacation rental booking sites in the world. The site is user friendly with easy booking and cancellation policies. It was first started in Amsterdam. Now it has grown from a Dutch company to a worldwide company. It has expanded its services to USA and Asia Pacific and other parts of the world. It provides all types of rentals including apartments, luxury resorts, family run homes, vacation homes, tree houses, igloos and 5-star hotel rooms etc. It provides all benefits of Airbnb including reviews from previous users. Their mission is to empower people to experience the world. No booking fee is charged.
9. Trivago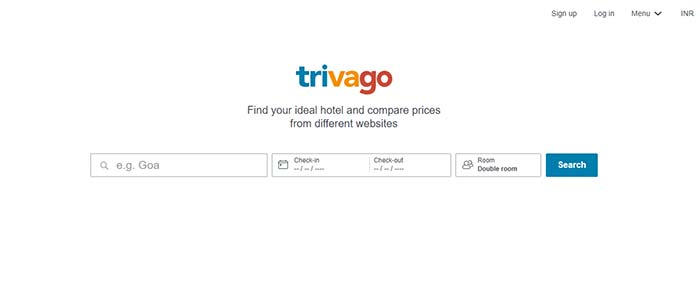 It is an Expedia backed company. It has a good selection of vacation homes, service apartments, hostels, and many more. It has a wide breadth of inventory. It is also easy to use. The site has an extra filter option to find the right type of lodging. The difference between Trivago and Airbnb is that the properties do not have hosts and are professionally managed. If you prefer to go for vacation rentals that are professionally managed, Trivago is one of the best choices. You can save because the site has many reviews to help you to make the right choice quickly. You can save money too because you can compare prices and get great deals. From lavish accommodations to homely vacation rentals, the options are endless.
10. One Fine Stay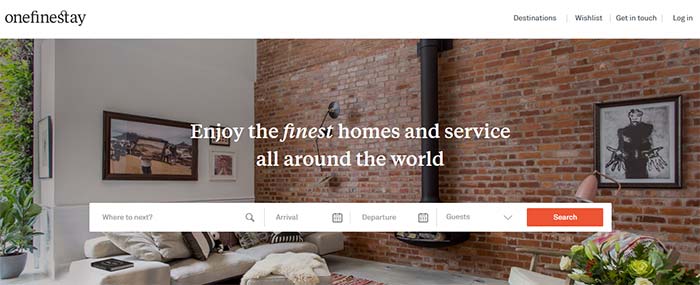 It provides vacation homes in New York, London, Los Angeles, Paris and other main places across the world. They claim that they are the only company that sends representatives to visit and vet each home in person. Homes provided by One Fine Stay are prepared with great hospitality standards. You are assured of all comforts of home and hotel luxuries like boutique toiletries and quality linen etc. You will be personally received on your arrival. The site provides many offers to help you to save money.
11. Stayz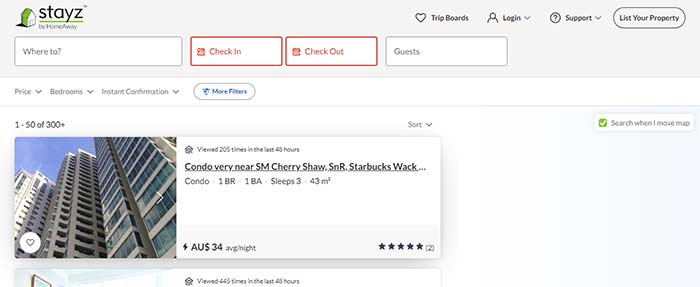 It is a Sydney based network and it is one of the best sites for Australian holidays. More than 400,000 properties in 2000 locations across Australia are listed in the site. It offers beach homes to farmhouses and city apartments. It allows guests to search and compare a wide range of holiday rentals across Australia. You are assured of rentals to suit all tastes and budgets. Booking is easy and payment is secure. The rentals offer extra space, extra amenities and more privacy. It is a part of Expedia and operates in Australia alone.
12. Atraveo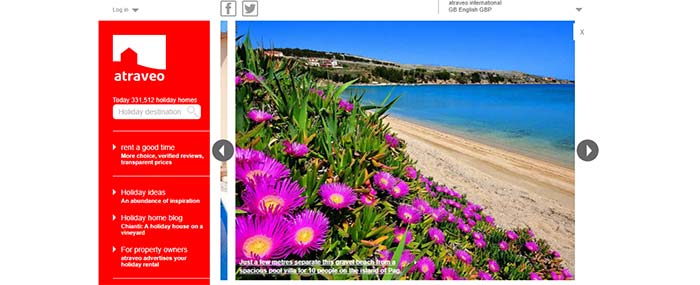 It is one of Europe's biggest holiday rental websites. It has about 400,000 holiday homes available. It not only helps in providing you the best options for stay but offers many more services. In fact, your holiday starts with Atraveo. You can start with choosing the destination. The website is user friendly. The properties are presented with photos, real reviews from previous customers and other information in detail. Whether you are traveling alone or with your family or with your friends or with your pet dog, you will be able to find the right property. They assure of a beautiful unforgettable holiday when you book with them.
13. Vacasa

it was started in the United States of America with one home. Today thousands of homeowners have joined the Vacasa family and there are more than 9000 properties around the world. It focuses on small towns. The local staffs in the vacation homes ensure perfect maintenance of accommodations. They make sure that the rentals are perfect for the guests and that the guests are fully satisfied when they leave. They offer a safe and worry-free experience. The professional, friendly, smart and competent staff is their biggest strength. They don't boast of millions of properties but of friendly service.
Now that you have the advantage of knowing about the alternatives to Airbnb, go ahead and book your dream accommodation.