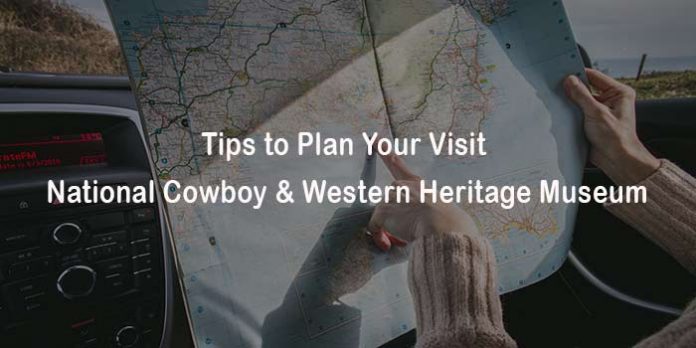 Oklahoma is a beautiful place. It is blessed by Mother Nature. It has everything from green plains to wild mountains. There are beautiful valleys that are synonymous to peace. It offers some of the spectacular sights and places to visit. You are sure to be amazed by its diverse beauty and wilderness. It is a great place to walk, to bike and to hike. When you are in Oklahoma you should not miss the National Cowboy and Western Heritage Museum. Plan your stay in one of the best vacation home rentals to save money and to make your stay comfortable and memorable.
National Cowboy and Western Heritage Museum was founded in the year 1955. It was formerly known as The National Cowboy Hall of Fame. The museum not only exhibits the best collection of Western arts and artifacts but also collects and preserves them. It also conducts educational programs to make sure that the interest in the knowing and understanding the legacy of western history is not lost.
A record says that more than 10 million visitors have visited the museum. Still today many people from all over the world visit the museum. The museum unfolds the history of America to the visitors. The cultures and history of the West are upheld for the future generations here.
Why should you visit the museum?
1. It features a superb collection of classic and contemporary Western Art. It includes work by artists like Charles M Russell, sculptors like James Earl Fraser and many more.
2. There are interactive galleries on history. The galleries focus on native culture of America, Victoria firearms, rodeos and lot more.
3. The exhibition has many temporary exhibitions. You are assured of something new every time you visit.
4. An art show and sale is hosted every year by the museum. You can participate in the seminars and buy your favorite art pieces.
5. The place is family friendly. The interactive exhibition for the children is informative and interesting. It keeps the children engaged. There are also other fun things like make and take activities to provide unique, enjoyable and educating experience to children.
6. The museum hosts many classes for children as well as adults. While the adults can enroll in art classes, kids have story telling classes and craft classes.
7. The permanent exhibits are highly impressive.
8. You are assured of a unique shopping experience. The store here has everything from souvenir t-shirts and mugs to unique jewelry.
9. It has something to offer for everyone. Are you a student? Are you an art lover? Are you an enthusiast? Are you interested in knowing the western history? There will surely be something to fascinate you.
What are visiting hours for the National Cowboy and Western Heritage Museum?
The museum remains open from Monday to Saturday from 10.00 a.m. to 5.00 p.m. On Sundays it is open from 12 noon to 5.00 p.m. It remains closed on Thanksgiving, Christmas, New Year and Christmas Eve. The museum grill opens at 11 a.m. and closes at 2.30 p.m.
What are the other details you should know?
• Parking is free.
• You are allowed reentry on the same day.
• The admission for adults costs $12.50. For the kids from the age of 6 to 12, it costs $5.75. The entry is free for kids of the age 5 or below.
• Visit to museum store is free.
• Guides are provided if requested. If you are interested in knowing all information, it is better to take a guide.
• Group tours are allowed. Group rates are lesser when compared to individual rates. However, to get group rates, a minimum of 15 people is needed for a group.
• You can book an online group tour.
• You can buy an annual pass if you are planning to go for frequent visits with your family and friends.
How long to spend in the National Cowboy and Western Heritage Museum?
The museum is huge. There are a lot of arts and artifacts. You can spend the whole day if you wish. There is so much to see that you can remain there from opening to closing. On an average you will need at least 2 to 4 hours. If you choose to engage yourself in the interactive activities you will need more time. Plan at least for a 3 hour visit if you want to see all exhibits.
Are you worried that you can spend only a limited amount of time in the museum? It is not a problem. You can take the Signature Tour. It covers all the best collections of the museum. You get a chance to see the works of Remington and Russell, Albert Bierstadt etc. When you leave the museum you will surely leave with a better understanding of the culture and history of the West.
What not to be missed in the National Cowboy and Western Heritage Museum?
• American cowboy gallery – Spotlight on ranching
• American rodeo gallery – Highlights the exhilarating sport of the region
• Display of antique firearms of America
• Joe Grandee Museum – Collection of artifacts of the Western artists
• Native American gallery – Music and artistic traditions of Western tribes
• Prosperity junction – Reconstructed prairie town
• Children's exhibits – Exhibit of chuck wagon display and furnished bunk house
When to visit the National Cowboy and Western Heritage Museum?
You can visit the museum the whole year. However, if you are interested in any specific event, you should visit the official site and keep track on the upcoming events. Here are some important events to note.
Western Heritage Awards – Induction of individuals into the Hall of fame of Great Western
Performers – In the month of April
Annual Chick Wagon Festival – Fun filled family festival with live music, chuck wagon food samples, artisan demos, petting zoos, face painting, square dances, giant puzzles, book
signing and many more – In May
Prix de West Exhibition – Annual exhibition of the museum where more than 300 paintings and sculpture, both contemporary and historical art works, are exhibited – In the month of June
Annie Oakley Society Luncheon – Honoring the significant women of America – In the month of June
Cowboy crossings – Showcasing the best of saddle making, spur making, silversmithing and rawhide braiding etc. – In the month of October
Cowboy Artists of America – An annual exhibition and sale organized by the Cowboy Artists of America – In the month of October
TCAA Fall Workshop – Mark Drain's address on techniques of forming and overlays of silver work – In the month of October
Rodeo Hall of Fame weekend – Celebrating the induction of rodeo legends in the Rodeo Hall Of Fame – In the month of November
Small Works Great Wonders – Features the sale of traditional and contemporary paintings at affordable prices – In the month of November
Annual Cowboy Christmas Ball – Alcohol free festival featuring traditional western songs and dances with home cooked buffet dinner – In the month of December
Watching Western movie matinees on all Wednesdays is a beautiful experience if you love classical movies.
Apart from the above mentioned annual events there are many more daily events that could be of interest to you. Check the website for upcoming events before planning your visit to National Cowboy and Western Heritage Museum.
There are many places of interest around National Cowboy and Western Heritage Museum including Science museum, City zoo, Pigeon museum, Infantry division museum, The Escape, History Center and Remington Park. Make a plan for a leisurely trip.