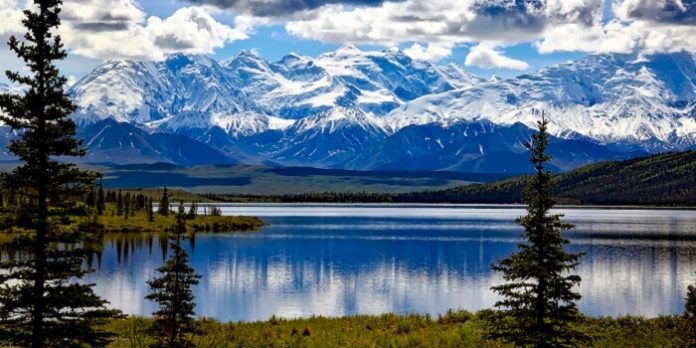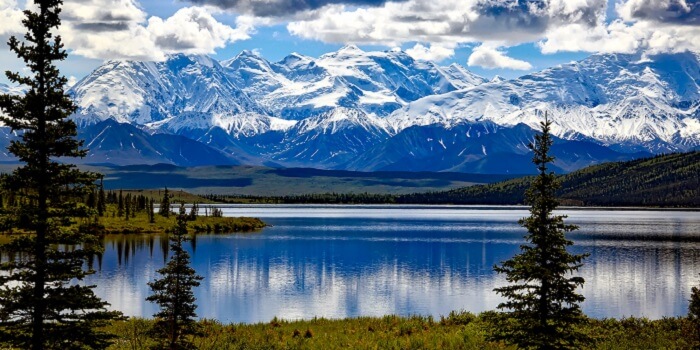 Alaska is the largest state in the U.S. There are many beautiful destinations in Alaska that you are sure to fall in love at the first sight. The natural beauty of Alaska that includes glistening glaciers, blue lakes, varied wildlife, steep mountains and miles of coastline attract visitors from far and wide. Are you planning to travel to Alaska? Make sure you don't miss the important places.
1. Denali National Park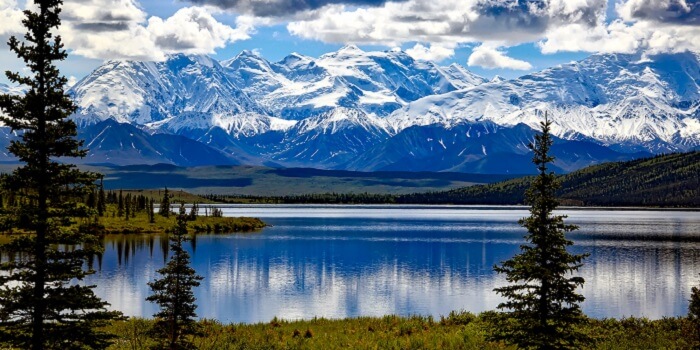 It is located in the center of Alaska. It has the Denali Mountain in the heart. The mountain is covered with snow and glacier all around the year. The temperature in the mountain can go as low as minus 75 degrees Fahrenheit. Yet, the mountain is the home for many animals and birds. During the summers the flora in the mountains is stunningly colorful and beautiful. The 92-mile park road should not be missed. From the 15th mile onwards private vehicles are banned. You have to take a shuttle or bus. From them on you can get in and get out anytime you want. You can capture the beauty of the scenery in your camera. You can spot many animals like spotted foxes, reindeer, elk, ground squirrels, marmots, Dall's sheep and many more. If you are lucky you can spot wolves, grizzly, black bear and moose
etc. Enjoy the raw beauty of Tundra in Denali National Park.
2. Glacier Bay National Park and Preserve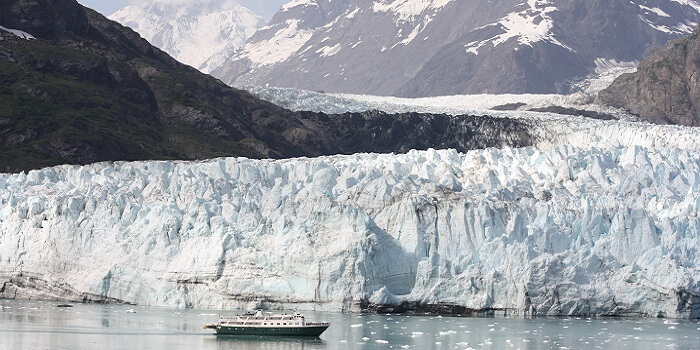 It is one of the world's largest international protected areas. It is recognized as a World Heritage Site by the UNESCO. Remote wilderness is very rare to find these days. It is one of the places where wilderness and the raw beauty are preserved. The place offers never countless opportunities on adventure and fun. The bay is wild and tough with amazing beauty and wilderness. It is a land reborn. It is a place of dynamic change. The place inspires you and keeps you alive with hopes. Keep your ears open in Glacier Bay. You may not get a chance to listen to the natural sounds of crashing glaciers, chirping birds and whining of sea lions again in your lifetime unless you visit the Glacier Bay again. Boating in Glacier Bay is an unforgettable experience. A visit in the cruise ship will ensure that you miss none of the beauty and wildlife of Glacier Bay.
3. Ketchikan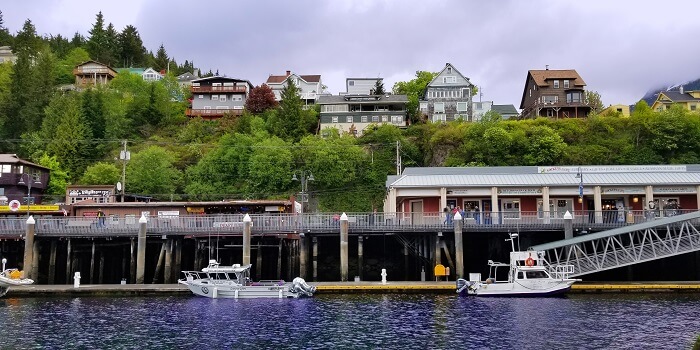 It is the fourth largest city in Alaska. It is very popular for the totem poles. Some of them tell you traditional stories. Fishing is very popular in Ketchikan. Salmon fishing is one of the favorites of the visitors. Ketchikan is referred to as the Salmon Capital of USA. Kayaking is another favorite thing, especially in the summer. You can enjoy watching the birds including eagles, seagulls, ravens and others soaring overhead. You are sure to be bowled over by the fabulous view of the rainforest and coastline. The landscape is spellbinding. Flying in a seaplane is really thrilling. Explore Creek Street by taking a leisurely walk. Admire the local art. If you want to enjoy Ketchikan fully, an overnight stay in one of the vacation homes is recommended.
4. Talkeetna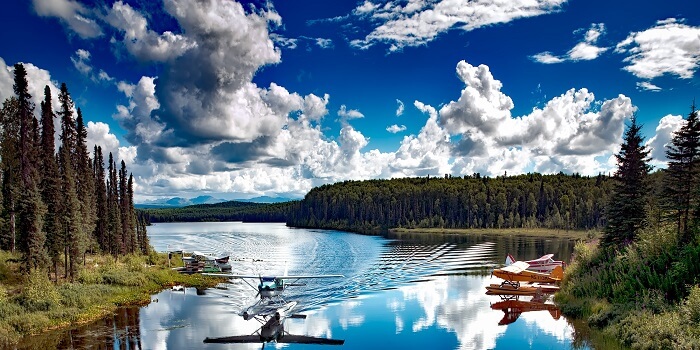 It is a beautiful place where three glacial rivers meet. Talkeetna has a lot to offer including fishing, flightseeing tour, river boat tour, zip line tour, skiing, hiking, mountain climbing, snow machine tours and many more. The place gives you a feel good feeling. You will start to think positively about the world once you visit this place. It is a wonderful mixture of natural wonders, historic heritage, arts, friendly people and best coffee. If you are planning to visit Talkeetna you should not make sure that you take a flight seeing tour and a river tour. Take walks to enjoy the views of Alaskan range. Explore the wilderness and beauty of Talkeetna.
5. Klondike Gold Rush National Historic Park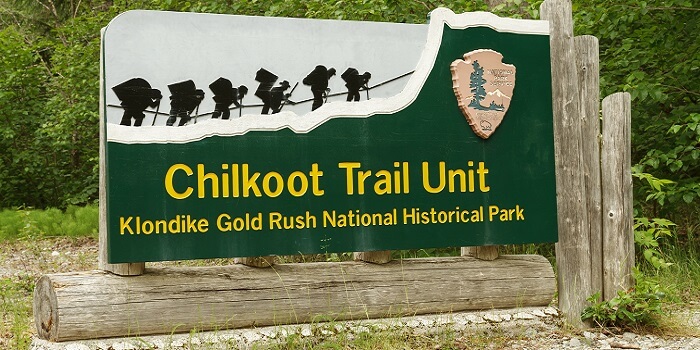 The Park commemorates the Gold Rush in the year 1897. It was the time when thousands of people crossed icy passes to reach the interior of Canada to strike gold and put an end to the woes of their life. Today it offers plenty of outdoor adventure including camping, rafting, fishing, hiking and walking etc. The Moor House is one of the popular attractions in the Park. It is furnished with original things possessed by families in 1904. You can get an idea of a family life in the early 19th century. The Chilkoot trail that covers 33 miles spectacular hiking is thrilling and adventurous. You are assured of fantastic experiences anytime of the year.
6. Sitka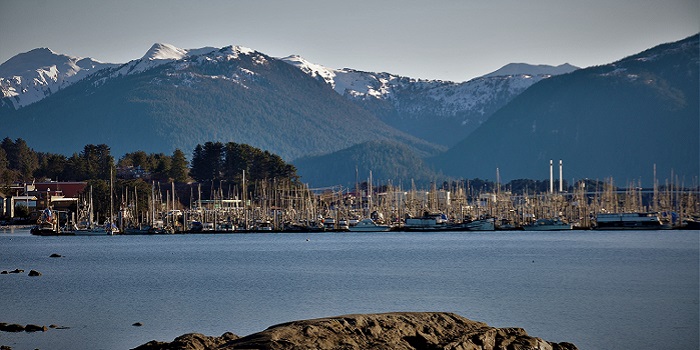 It is an island with interesting history, culture and beauty. It is located in Baronof Island known for its picturesque beauty. The place is surrounded snow covered mountains. This is where Americans came to buy Alaska from Russia. This event is still celebrated with great gusto every year. The place is apt for outdoor adventuring. Hiking through the rainforest, you can have a glimpse of a varied wildlife including brown bears, bald eagles and deer. If you are interested in watching marine life, you should take a boat trip. You can watch sea otters, sea lions and whales jumping and sliding. You can immerse yourself in wild nature in Sitka. You can explore ancient volcanoes and mountain ridges. You can enjoy traditional dancing in Sitka. Beauty of Alaska awaits you in Sitka.
7. Kodiak Island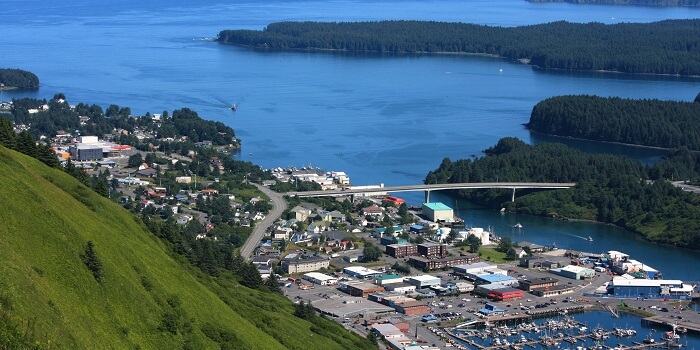 It is the largest island of Alaska and the second largest island of USA. It is called as Emerald Isle. It is a beautiful destination for nature enthusiasts. It is also a good spot for surfers, kayakers, rock climbers and hikers. It is also a pilgrimage site for commercial fishing. At Kodiak National Wildlife Refuge you can view bears. More than 3000 bears live here. They are huge. Some of them are more than 10 feet tall and 1500 pounds in weight. They are sure to leave you in awe. Taking an air charter is the best choice to view bears and the wild mountains.
8. Girdwood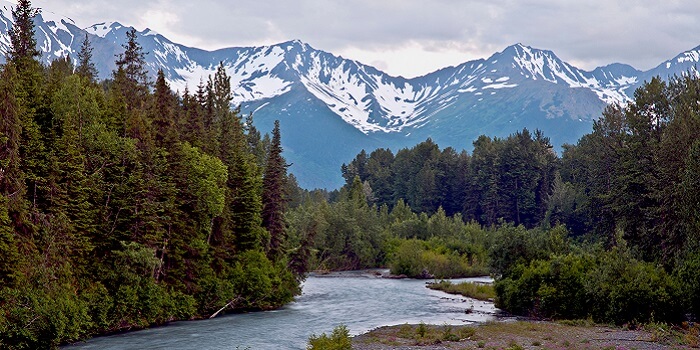 It is a mountain town in Alaska surrounded by thick dense forest and mountains. If you want to escape the stresses of the city life you should visit this place. The place has an interesting history. During the famous gold hunt, gold was first brought to this town. The town has been rebuilt several time s but it met with a major disaster in the year 1964 when a massive earthquake hit the town. It attracts tourists in summer as well as winter. Winter in Girdwood is very enjoyable because of great snowfall. You can enjoy activities like skiing, snowmobiling and rafting etc. When it is summer you can enjoy biking, hiking, fishing and wildlife viewing etc. If you want to enjoy outdoor activities and the natural beauty, Girdwood is an excellent destination.
9. Seaward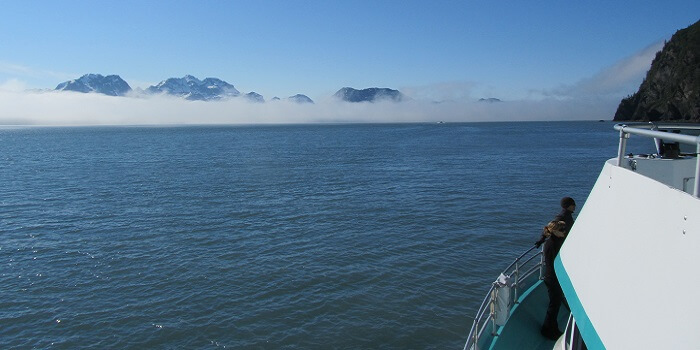 It is one of the scenic places of Alaska. There is so much to love in this place. The high mountains, the busy harbor, the crystal clear water bodies, varied wildlife, outdoor activities and many more draw visitors throughout the year. Enjoy the hiking trails. Take in the beauty of the Resurrection River. Paddling in the river is an unforgettable experience. Seafood here is so fresh and tasty that the taste will linger in your tongue for several days. Say Hi to the locals and you are sure to be impressed by their passion for their town and by their friendliness.
10. Wrangell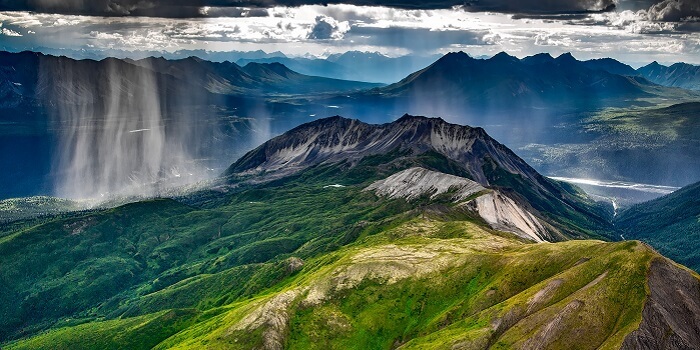 St Elias National Park – It is a huge park with scenic beauty. It is more than 13 million acres. It is home to 60% of glacier ice in Alaska. Nine out of sixteen peaks in USA is located here. Everything about this park is menacing. The mountains are covered with snow all year around. Where glaciers meet land they form rivers where paddling is fun. The wilderness of the place is sure to take your breath away. You can indulge in a wide array of outdoor activities like ice climbing, backpacking, flightseeing, fishing and mountaineering. Visit the place if you are looking for unique adventurous experience.
11. Homer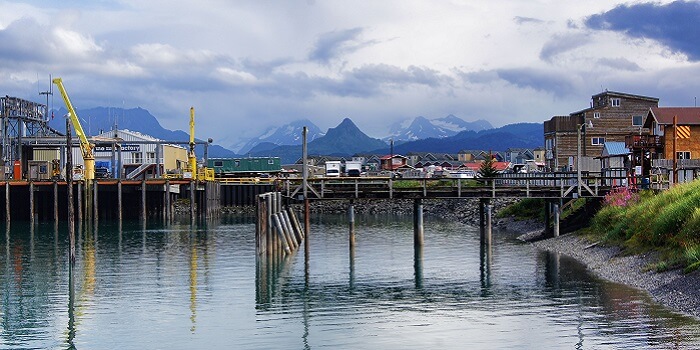 It is undoubtedly the most charming town of Alaska. It is referred to as the 'end of the road Alaska Town or as the Fishing capital of Alaska. If you want to enjoy your visit to the town, it is recommended that you stay here for at least a couple of days. Why is it so? It is because the place offers you a lot. Whether it is hiking or sailing or kayaking or fishing or bear viewing or bird watching, you are assured of the best. The place boasts of the best seafood. Escape from the bustle to the wilderness just by hopping into water taxis.
12. Fairbanks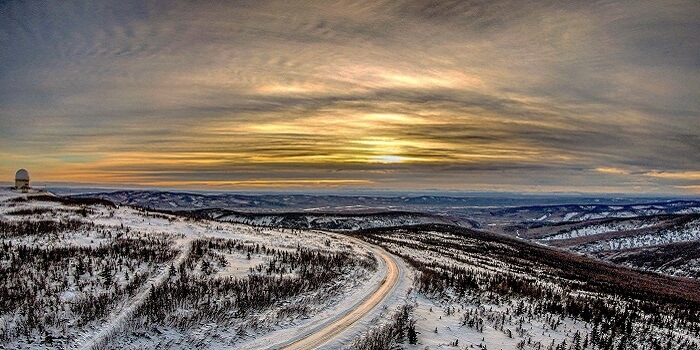 It is the second largest city of Alaska. It is known by many names like 'Hub of the Interior', 'Golden Heart City' and 'Gateway to the Bush'. The city features extreme light and dark and cold and warmth. In the summer sun shines for about 22 hours and the temperature up to 80 degrees Fahrenheit is common. In the winter the temperature goes as low as minus 62 degrees. You can watch the spectacular northern lights in this region. When the sky is dark and clear northern lights appear always. You also have a wide range of activities including golfing, snowmobiling, fishing, skiing, wildlife viewing, beer tasting and many more.
13. Misty Fjords National Monument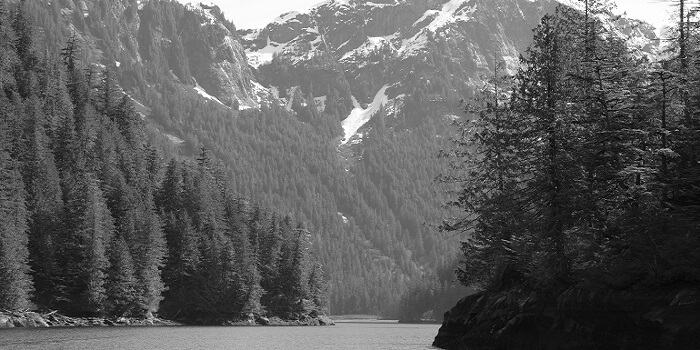 Imagine a place with icy blue lakes, beautiful waterfalls, snow capped mountains, valleys and glaciers. Do you think a single place cannot have all these things? You will understand that you are wrong when you visit Misty Fjords. The area is the home to hundreds of flowing rivers and streams formed by the melting glaciers. You can enjoy the beauty of the place by hopping into a float plane or getting into a cruise tour. Both the bird's view from the floating plane and the peek into the nature from the cruise are incredibly beautiful and are sure to make your jaw drop.
14. Alaska Native Heritage Center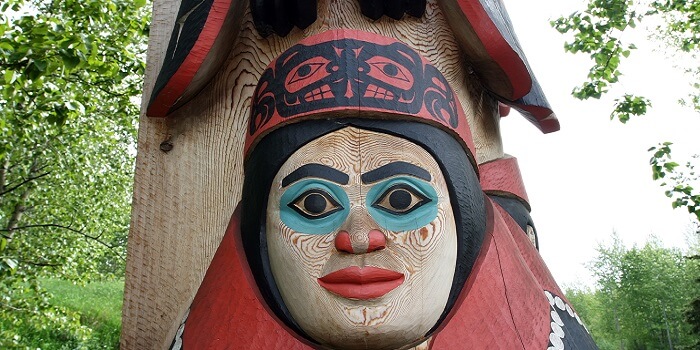 Are you interested in knowing about the native history of Alaska? This is the right place where you are assured of an in depth knowledge. The best thing is that there are no boring lectures. You can learn the history by listening to stories, watching dances and watching carvers. You can watch the culture live before your naked eyes. Nothing is exhibited behind closed glasses. You can experience the culture and history firsthand. You can meet the artisans carving, weaving and performing other arts to tell you the story of Alaska. It is an interesting and educational place to visit.
15. Matanuska Glacier
It is a valley glacier. It is the largest glacier in Alaska that can be visited by vehicle. If you are curious to have a close up look of icy glacier, this is the perfect spot. You can drive your vehicle up to the glacier. You can park your vehicle next to the glacier to admire the beauty. If you are an adventure lover you can continue to walk on the ice for about 15 minutes. You can get appropriate gear for ice walking from locals and enjoy the spectacular sight. The scenery and wildlife are stunningly beautiful. Besides viewing the stunning beauty you can also enjoy activities like river rafting, glacier trekking and hiking etc, in summer and snowmobiling, skiing and snowshoeing in winter.
Alaska is the home to many beautiful destinations. If you want to enjoy all the important places stay in a vacation rental and visit them.