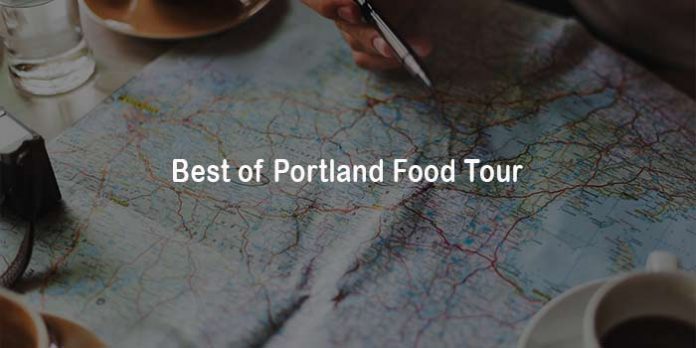 Portland has become the Mecca of foodies. It has become the most sought after destination of food lovers. Portland food tour walking where you will taste different foods and sip different drinks is surely for you if you love to eat. You can enjoy the unique experience of smelling, tasting and feeling the texture of each and every dish offered at Portland food tour. It is a unique experience that can be compared with nothing else. Are you confused with the multiple choices?
Here is a pick of the best to make things easier for you.
1. Portland's Division Street Food Tour
Portland is known for its food trucks, international cuisine, handcrafted drinks. You can taste all these special items in this tour. It is a beautiful experience to explore the mouthwatering dishes with other foodies. Sit around a fire pit and taste Hawaiian, Japanese and local dishes chatting with locals and other foodies. Do you love spicy Indian food? You will love the delicious potato dumplings. Do you love French food? You will love succulent salads made with Oregon tuna. Does your belly feel full? Take a break. Take a sip of the best Chardonnays and others. Then continue to explore Mexican food. Don't miss tangy margarita.
Highlights of the tour
• There are six different stops on the tour to taste delectable foods and regional wines.
• Knowledgeable guide to take you to the best spots and to guide you on the best dishes.
• A wide array of dishes.
• Live commentary of the tour.
• Wheelchair facility to physically-disabled.
• No small bites but full-sized portions of food for tasting.
2. Mississippi Avenue Food Tour
This 3-hour food tour gives you a chance to visit trendy eateries, cocktail joints and brew pub. This taste extravaganza starts with Thai food. Proceed for a one mile walk to explore the best food spots that serve Italian food and local foods. The stops vary from one day to another. But it may include Mississippi market place, The Meadow, Food cart pod, boutique shop and souvenir shop. The last stop is a treat for the ice cream lovers. You will love the ice cream sandwiches. You have a whole variety to choose from including salted caramel sandwiches, lavender honey ice cream sandwiches and delicious cookies.

Highlights of the tour
• Small group limited to 14 people and so you are assured of personal attention.
• Knowledgeable local guide
• Enjoy seeing Benson bubble water fountains, Mississippi's Market Place and quirky shops on the way.
• Learn the history of the neighborhood.
3. Portland Food Tour In Slabtown and Alphabet neighborhoods
This is an evening walking tour. You will be taken to five different restaurants. You will taste different dishes at each spot. The tour kicks off at a wine tasting room. You will be given three wines to taste. You will also be able to learn about wine production. Your next stop will be a cozy spot where you will taste homemade pasta. Asian fusion is becoming very popular these days. Your next stop will be an Asian fusion restaurant where you will try cuisines of various Asian countries served with a unique cocktail. Will a food tour be complete without desserts and craft brewery? The tour gets rounded with a visit to dessert shop and craft brewery.

Highlights of the tour
• Small group
• Knowledgeable guide
• Not a food tour alone but a knowledgeable tour where you learn a lot about the history of Portland.
• Evening tour where your dinner is included
• Free drinks
• Pickup from a easily accessible meeting point
4. Portland's Art District Food Tour
Portland is quirky. There is no doubt about it. Art district in Portland is even quirkier. The area is lined with shops, bars, restaurants, street art and street vendors etc. Try the best foods and drinks on this walking food tour. The tour takes you to six different stops. Your tour starts with homemade tacos served with Portland craft beer. Then you will proceed to taste a delicious pork bell cubano. Then you get to sample wines in one of the best breweries. The next stop is a bakery where the ingredients used are all organic. You will also be taken to free walls where paintings are displayed.

Highlights of the tour
• Small group comprising of just 12 people.
• Learn about the history of the place
• A chance to admire the murals lined up in the streets.
• Learn about the cooking techniques
• Fun way to explore the neighborhood and culture
• Delicious dishes and drinks
5. Downtown Food Tour
This small group 1.5 miles long food tour offers a large variety of delicious culinary from restaurants and food carts. The itinerary for the tour is not the same day. It may change slightly. The tour spots may include Picnic House, Lardo, Cacao, Grassa Pasta, Saint Cupcake, Q Restaurant and Southpark Seafood etc. Wherever you are taken, you are sure to enjoy an array of drinks and food that are delicious beyond words. The dishes may include a Mexican dish prepared with organic ingredients, freshly made pasta, bahn mi sandwiches, local crafted beer and single origin chocolates etc. You will be surprised with the wide range of culinary that varies from small sweet shops to upscale restaurants. The tour ends with a visit to a dessert shop.

Highlights of the tour
• Small group tour
• Knowledgeable guide who will enlighten you on the local history
• Visit to restaurants in historic buildings
• Ever changing menu
• Pass by local attractions
6. Sipping and Strolling Drinks and Food Tour
Are you a drink enthusiast? If so, it is for you. Are you a novice? It is for you too. You can have a wonderful experience in the best beer halls, distilleries and cocktail bars. You will be served the best beverages with the appropriate snacks. Are you thinking that you will be able to sample only drinks? You are wrong. It is true that the emphasis is on drinks but you are assured of a variety of foods as well. Delicious food will be served along with beverages. The tour takes place in Southeast Artisan Corridor. The area is close to downtown and is the home to many small businesses, artists, bars, breweries and distilleries etc. The distance of this walking tour is 1.5 miles. You have five stops during the tour. The stops may include House Spirits, Olympia Provisions, Loyal Legion, Produce Row and Bar Case Vale etc.

Highlights of the tour
• Learn how spirits are made
• Learn why a cocktail is called a craft cocktail
• Learn the importance of bitters
• Fun way to know more about alcoholic beverages
• Knowledgeable guide
7. Epicurean Excursion
This is a perfect foodie tour. It lasts for about 3.5 hours. You can visit up to 9 culinary hotspots. You can taste dozens of dishes and you will come to understand what made that food. You can listen to the master chefs who were behind the dishes you tried. You can listen to their stories. You will be exposed to the aromas, the colors, the flavors, the tastes and the smells of the unique dishes of Portland. Epicurean food tour is offered multiple times a day. The morning tour is different from the afternoon tour. If you don't want to miss any spot or any dish, you can take both the tours. The morning tour is at 10.00 and the afternoon tour is at 14.00. Enjoy the lovely walk along with variety of foods and beverages to sample.

Highlights of the tour
• Knowledgeable and entertaining guide
• Honorary diploma of culinary knowledge at the end of the tour
• More time, more stops, more dishes, more fun and more experience
• A little pricey but worth the money spent
8. Eat Adventure Food Tour – The Deluxe Foodie Experience
This is second downtown Portland tour. This offers you a richer and complete experience of food tour. It is 3 hours long tour. There are six different stops. You can visit award winning Chefs like James beard award winners and Top Chef Master winners etc. Chat with the upcoming chefs and taste their unique and innovative dishes. Are you a tourist? You should never miss a walk down the food streets of Portland. Are you a local? You may not be aware of the best cuisines waiting for you to taste and relish. You will have a great time exploring the Portland that you did not know all these days.

Highlights of the tour
• Learn about the history of Portland
• Take a walk to explore the landmarks of Portland
• Knowledgeable guide
• Well organized tour
• Enjoy unique dishes and beverages
• Enjoy the unique culture of Portland
9. Portland Food Cart Tour
This is one of the best tours to explore the hidden kitchens, unique food carts and tasting trucks of Portland. The food is filled with flavor and flair in the food carts of Portland. With too many food carts you may make the mistake of making the wrong choice. Why should you waste your time and money in wrong food choices? Join Portland Food Cart Tour where you are guided by experts. The tour lasts for two hours. You will be taken to hotspots where creative international cuisines are made by the best chefs. The cuisines range from African to American. Asian Fusion is not to be missed. The motto is 'visit the best and skip the rest'. Explore more about street vendors and their food under expert guidance.

Highlights of the tour
• Knowledgeable guides to show you around and to help you pick the right meals
• Fresh food
• Fun with learning. Learn the differences between pods and carts. Know the history of the place
• Limited people in a group
• Listen to the stories of the vendors and proprietors
• The best guaranteed
10. Taste Portland Tour
It lasts approximately for one and a half hours. There are eight stops in the best food carts of Portland. You can sample eight to ten samples. The tour starts from Pine Street Market. Your first stop is at a Colombian food cart followed by a French food cart. After tasting the samples you move to the next spot where you will try Chinese and Mexican food. The next stop is for Korean and African food. At the final destination you will sample German, Vietnamese and Syrian food. On the way your guide will show you the important landmarks of Portland.
Highlights of the tour
• You will come to know the interesting story behind each food cart.
• You will come to know more about the culture of Portland.
• Deals with owners to avoid queue
• Two options to choose from, Brunch tour or lunch tour.
• Unique recipes and delicious foods assured
Take a walk down the flavor streets of Portland. Satisfy your taste buds. What next? You have lot more to do in Portland and lot more to visit. Stay in one of the best vacation rental homes and start exploring the rest of Portland next day.
Find perfect place to stay in Portland here at Tripinn.