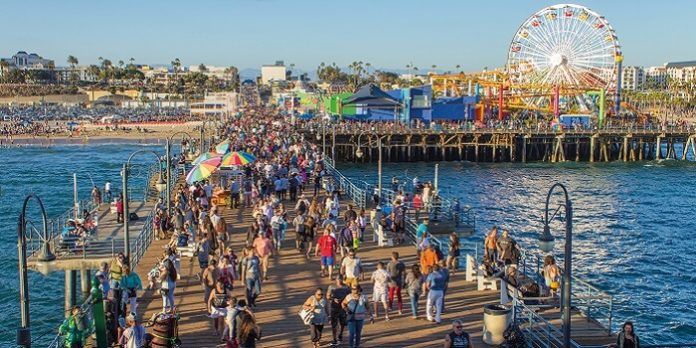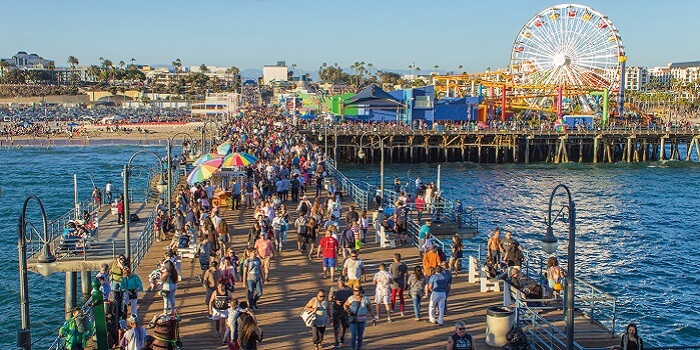 California, the golden state has 840 miles of coastline with stunning sun kissed beaches. Be it a crowded beach with plenty of activities or a secluded beach with nothing except natural beauty, California has the best. It boasts of 420 public beaches, each one special in its own way. Here is a pick of the top 20 beaches among them. Are you planning for a weekend stay or are you planning for a long vacation? The best choice is to go for beach rental homes than hotels.
20. Santa Monica Beach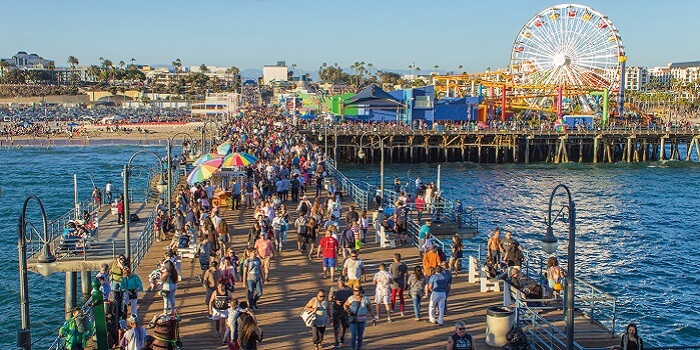 It is located west of Downtown of Los Angeles, California. It is a large beach with miles of bike trails and walking trails. It is an iconic beach with variety of activities and attractions. Are you seeking an active vacation with varied outdoor activities? If so, Santa Monica beach is definitely going to be a haven for you. Do you want to know what to do in Santa Monica beach?
Take a stroll along the pier in the evening. Watch the orange sun sinking into the mighty Pacific Ocean. The sight is sure to leave you spellbound. Go for bike rides in the morning before it becomes too sunny. Have a glimpse of everything that is going on along the ocean. You are sure to be left with memories that you can cherish for a lifetime. Go for surfing in the late afternoons. If you are lucky you can watch a few dolphins riding the waves with you. You can visit the aquarium in the pier. It has more than 100 local species exhibits and everyday educational programs on marine science.
The biggest drawback of this beach is the loads of homeless people who roam about with drunken eyes fighting with each other.
19. Pfeiffer Beach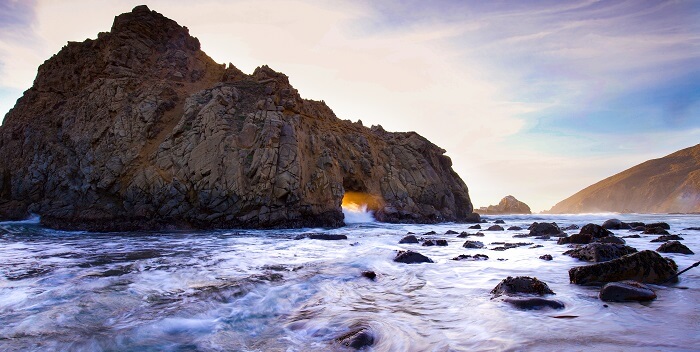 It is located in Big Sur area, california. It is a beautiful unspoiled beach. It is popular among the locals but not among the tourists. So it is less crowded. The unique feature of this beach is its purple colored sand. The sand gets its purple color from the manganese garnet particles that are washed down the hillside. It is really fin to build purple colored sand castles with your little ones. If you have time you should take one of the hiking trails that lead to waterfalls and whale-watching spots. The sea is calm but for a few occasional high tides.
The problem with this beach is the long winding drive that you have to take to get here. However, once you reach the place you will surely realize that the place was worth the drive.
18. Leo Carrillo State Park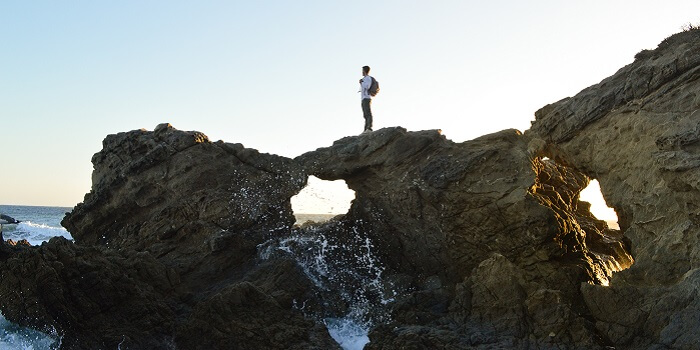 It is named after Leo Carrillo, an actor, a conservationist and a preservationist. It is not a very large beach but a scenic beach. The rock formation, the ocean views, the huge waves, the great sea caves, and everything else are beautiful in the beach. There are many trails to explore and tide pools to take a dip. The park offers excellent camping facilities with more than 100 camping sites. There are four different access points to the beach, namely, the South Beach, the North Beach, the Staircase Beach and the County Line Beach. Each beach is different from the other.
The lifeguards are available only seasonally. It is risky to go for swim and surf when there are no lifeguards.
Top Glorious Beaches in California 
17. Torrey Pines State Beach
It is located north of La Jolla, California. The 300-feet high sandstone cliff provides a dramatic backdrop to the beach. Are you a bird watcher? You will surely love this place. Keep your eyes open and senses alert to make sure you don't miss birds like pelicans, osprey and terns etc. The sand is soft and golden. Hiking is a must if you visit this beach. The views are stunning. It is a great place to watch sunset. The surf is high. It is a superb beach to go for a swim.
Only problem with the beach is parking.
16. San Gregorio State Beach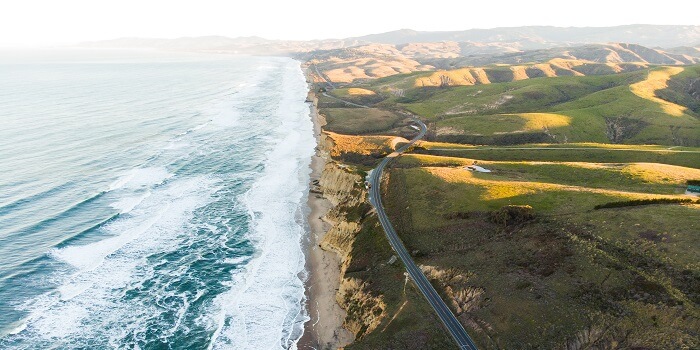 It is a beautiful beach in a valley. It is a short drive from the Silicon Valley. If you want to escape the big city life, this is the perfect spot for you. It is the best place to go for leisurely strolls. The beach walk with high sandstone cliffs all along the way is heavenly. Summers are not very hot. The beauty of a stream flowing into the ocean is incomparable. The huge caves down the beach are very large that it can accommodate more than 100 people.
Absence of bathrooms is the biggest problem.
15. Hermosa Beach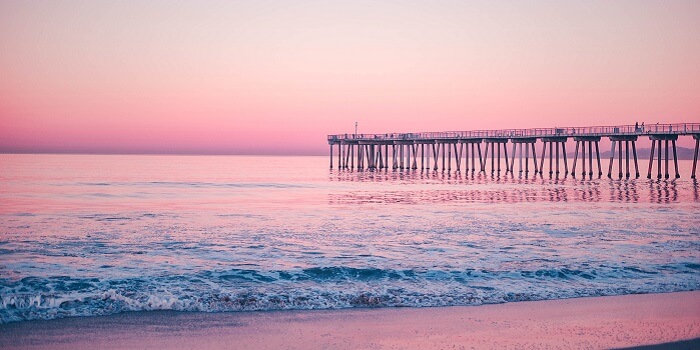 Are you looking for a beach that is not too formal? Hermosa is sure to make you happy. Manhattan Beach, Redondo Beach and Hermosa Beach are called the 'Trio'. Hermosa is the only beach that is not formal in the Trio. If you want to unwind your pressure you should visit here. The pier is scenic and is a delight for your eyes. Take a blanket and take a nap on the soft sands of the beach. If you are in the mood for activities you can go for biking or walking or skateboarding. The small parking lot is the only downside.
14. Glass Beach, Fort Bragg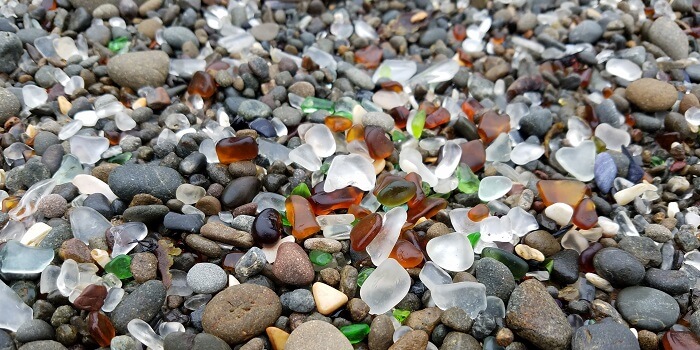 For almost a century this place was used as a trash by the people. Bottles, cars, glasses and other appliances were thrown into the sea. Thanks to the nature, the bottles, the headlights and other pieces thrown inside turned into colorful jewels. Today, the beautiful glass pieces make this pebbly beach beautiful. They look like emerald and ruby stones that tempt the tourists to collect them but glass picking is banned here.
13. La Jolla Beaches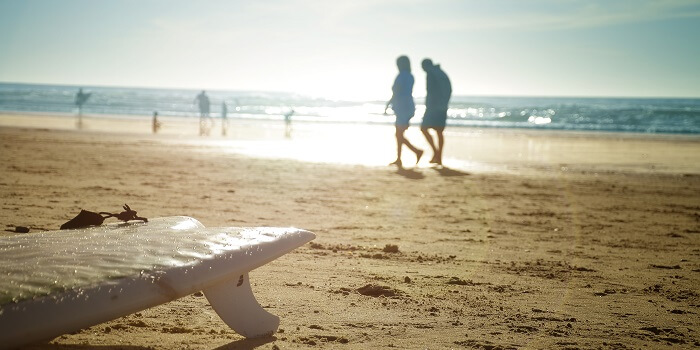 The coast of La Jolla is called as 'The Jewel' of San Diego. Soft sandy shores, secluded coves, big reefs and cliffs attract many tourists to La Jolla beaches. They are ideal for sunbathing. The place is bustling with activities like scuba diving, surfing, bogie boarding, snorkeling and kayaking etc. In the night, the place comes alive with bonfire. The parking area is large. You can visit the place at any time that suits you. Soak in the sun and enjoy the fun.
12. Baker Beach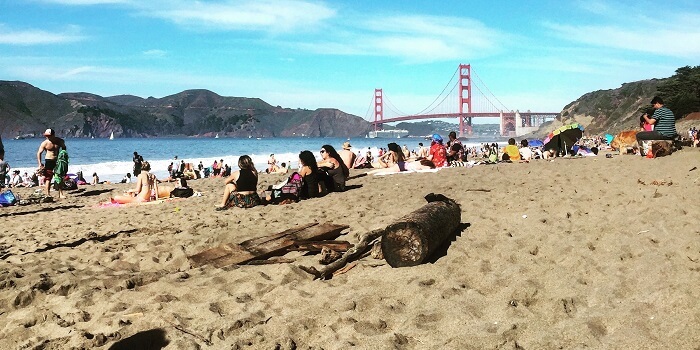 It is located in San Francisco, California. The state known for its nightlife party- find top places for epic party. It is one of the most popular beaches because you can get the best view of Golden Gate Bridge of San Francisco from here. The place is always flocked by photographers, artists and tourists. The scenic view is so beautiful that you can spend hours going for a walk and enjoying the view. It is a good place for sunbathing but swimming is not advised. If public nudity bothers you, it is better to avoid this beach because it is a cloth-optional beach.
11. Manhattan State Beach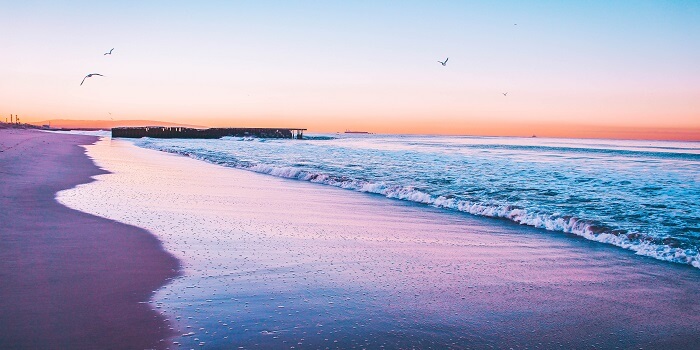 It is situated between Hermosa Beach and Los Angeles International Airport. It is a very popular beach and is visited by several millions of people every year in California. It is a classic beach and is a great place to jog, walk, bike and sun bath. It is a wonderful place for surfers and volleyball lovers. There are more than 40 volleyball courts on the beach. Don't miss the Roundhouse Aquarium located at the end of the pier.
10. Capitola Beach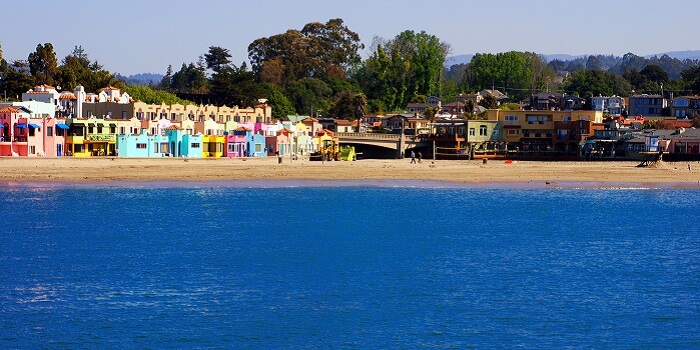 It is located five miles from Santa Cruz, California. It is a very popular beach and is packed with people during weekends and beach events. It has a long fishing pier. The water is calm here and is the best spot for fishing. The east end is the right place for surfing because of high waves. Do you love bird watching? There is a lagoon behind the beach that attracts birds.
9. Carlsbad Beach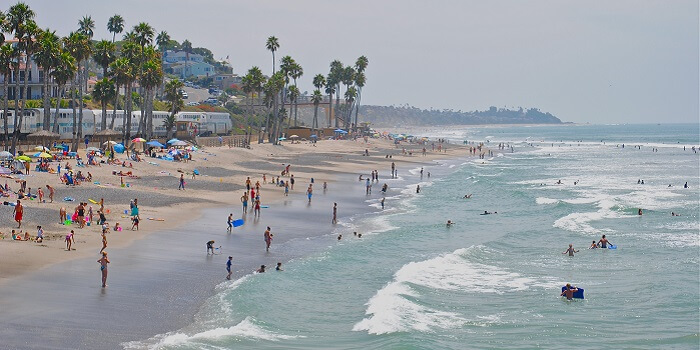 It offers a lot of facilities like hiking, biking, surfing, bird watching, body boarding, rock hunting, diving, camping and many more. Are you looking for great surf? Head to Tamarack. Are you looking for overnight camping? Head to South Carlsbad State Beach. It is a wonderful place for family picnics. The seawall separates the beach from the coastal highway. It is always busy with bikers, joggers and rollerbladers.
8. Venice Beach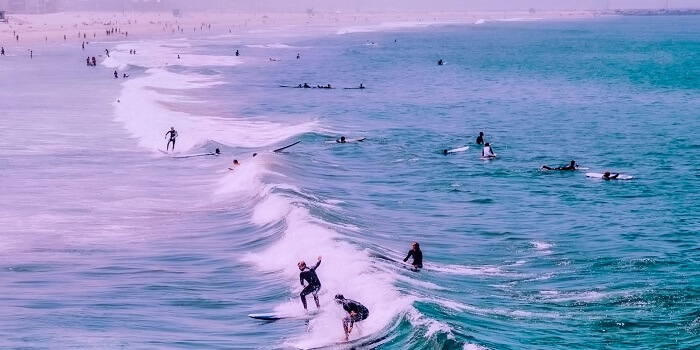 It is located in the west place of Los Angeles, California. It was originally called the 'Venice America'. It was founded in the year 1905 by Abbot Kinney. Today it is one of the popular destinations in Los Angeles for visitors. This artsy place is the home to artists, poets and musicians. The famous boardwalk is full of colorful street performers, funky shops and vendors. You can soak yourself in the beautiful views and walk miles in the sprawling sandy beaches. You can watch bodybuilders working out in the popular gym.
7. Ocean Beach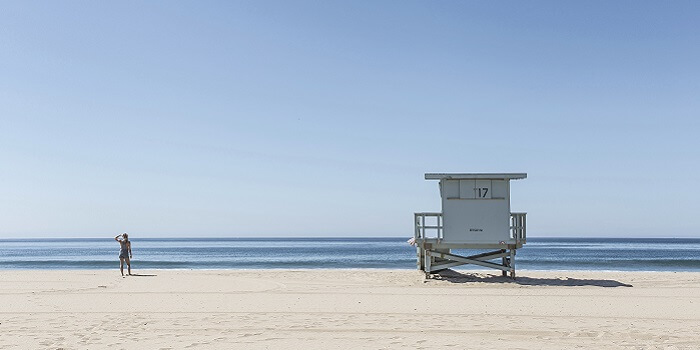 It is located north of Point Loma, California. It is an ideal place for sunbathing, strolling and surfing. You can treasure hunt in the antique malls and taco stands. The pier here extends up to half a mile into the sea. Your furry friends are welcome here. You can cast off their leach and let them run wildly with other canines. The nightlife is very vibrant with music and dance.
6. Laguna Beach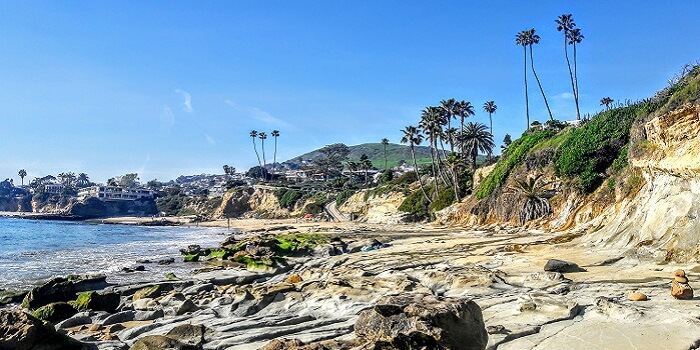 It is located between Los Angeles and San Diego in California. It is a wonderful place with several sea caves to explore, natural tide pools to enjoy a swim, sandy beaches to go for walks, hundreds of biking trails, cliffs for hiking and wonderful waves for surfing. Scuba diving and snorkeling are also popular here. There are about 30 different beaches and each one is excellent in its own way.
5. Moonstone Beach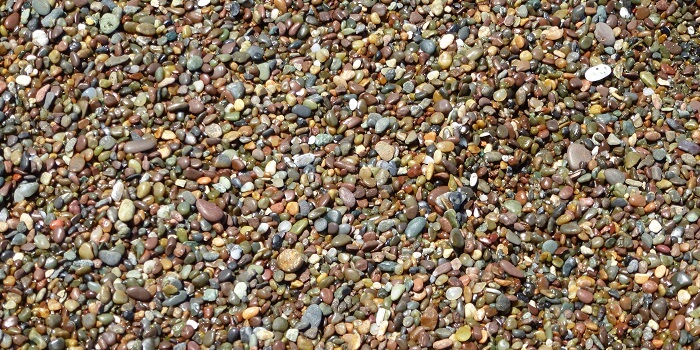 Are you looking for a less crowded beach which has not lost its wilderness? Moonstone Beach is the right place for you. It is surrounded by rocky cliffs that give it a rugged look. The boardwalk is long and runs almost for a miles. It is a pebbly beach. The pebbles are soft and polished. They shine like jewels. If you are lucky you can see whales and sea otters having fun in the sea. You can have fun in tide pools. It is a great place to spend a day peacefully.
4. Huntington State Beach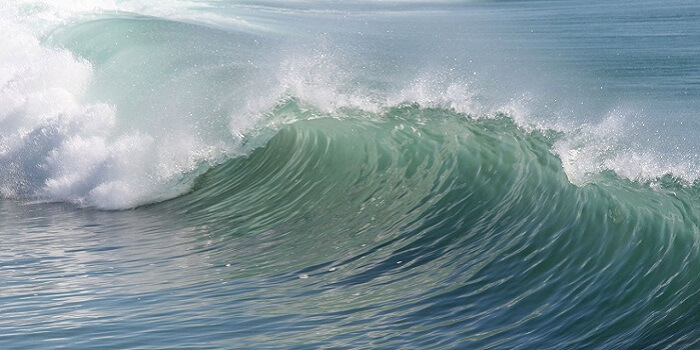 It is one of the storied beaches. It lies between Santa Ana River and Beach Boulevard. The beach offers surfing, fishing, swimming, beach volleyball, basket ball and miles of romantic walk. Although, it does not have the best waves it is called the Surf City because it is the most consistent break in the mainland. If you are planning to get your first lesson, you can start it here. You have many more interesting activities like paintball, laser tag and bonfire etc.
3. Zuma Beach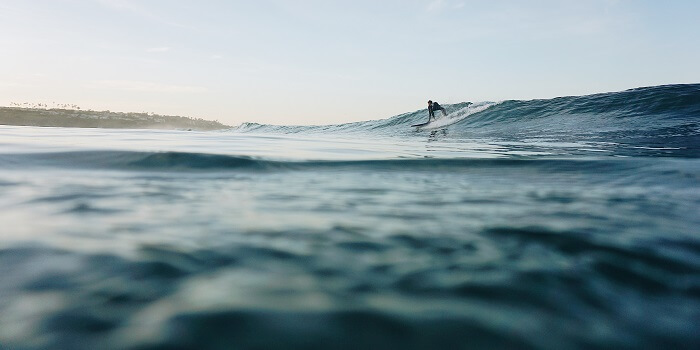 It is located in Malibu. It is one of the best beaches of Los Angeles County. The wide stretch of soft sand makes it a family friendly beach. Hence, it is not a surprise that the beach gets crowded during weekends. It is one of the favorites of surfers because of the excellent conditions. It is also one of the best spots for kite surfing. The soft flat sand makes it an ideal spot for volleyball too. Diving and surf fishing are also popular. It has featured in many movies and TV shows. It is surely one of the top beaches to be visited in California.
2. Carmel Beach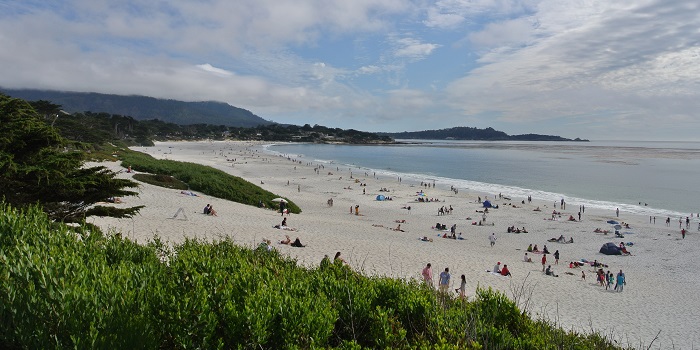 Carmel Beach is one of the favorite spots of locals and visitors. This white sand beach is popular for its picturesque beauty. The shore is lined with Cyprus trees. The dolphins and otters splash about in the sea. The evening sunset is amazing. The scenic beauty is awe inspiring for all visitors. The beach is the home for fun and diverse events. It is dog friendly beach. The crystal clear water and the waves beckon the surfers. It offers something new and different every time you set foot on the beach.
1. Coronado Beach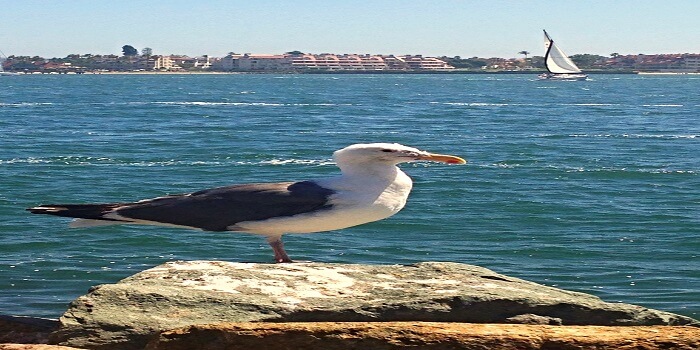 The meaning of Coronado is the 'crowned one'. Yes, it is surely a crowned one. It is a blend of culture, glamour and beauty. The white sandy beach glitters in sun because of mica deposits. It has been one of the holiday destinations for locals, visitors and celebrities for more than a century. It is a well maintained beach. The gentle waves kiss your feet when you walk by the shore. If you are feeling adventurous you can try your hand in jet skiing or surfing. If you want to relax and get rid of your physical and mental tension you should splash around in the shallow pools. Don't rush when you come visiting Coronado. Take your own time to explore. Stay overnight in one of the beach rentals.